Lesson 3, Devotion 1
Did you know one of the ways God describes himself to us is as our "rock?" In Psalm 18:2 He is described this way: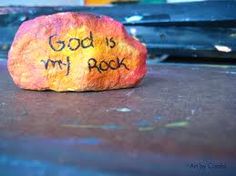 The LORD is my rock, my fortress and my deliverer; my God is my rock, in whom I take refuge. He is my shield and the horn of my salvation, my stronghold.
Take out the rock you had from group this week. Look at it. Hold it in your fist and try and crush it. It's solid. If you think of God as a rock, He is unwavering. He protects us, saves us and is the one who gives us peace. Find a Sharpie and write the word, "PEACE" in bold letters on your rock.
Now hold the rock again in your fist. Spend some time asking Him to comfort you in the tough times. Ask Him really what it means that He is your "rock." Carry it with you this week or put it somewhere that you can see it daily as a reminder that His peace won't be moved.